Two of Australia's most powerful universities and a multi-billion dollar tech giant are fronting campaigns to silence news coverage of the Voice to influence the referendum.
A Sky News Australia investigation has uncovered a disturbing foreign-financed attempt to block political debate and news coverage around the Voice, which exposes the global fact checking system used by tech giant Meta as non-compliant with its own rules of impartiality and transparency.
In one case, the Royal Melbourne Institute of Technology has been allowed by Facebook parent company Meta to block and deplatform Australian journalism, despite the platform knowing it was a breach of the rules Meta founder Mark Zuckerberg established to distance himself from fact checking responsibilities.
Meta maintains its fact-checking operation is at arm's length and independent, but Sky News can reveal the tech giant signed a secret commercial contract directly with RMIT which allows the fact checking unit to be paid up to $740,000 a year from an Irish Meta subsidiary.
Zuckerberg has given promises globally that Meta does not seek to be the arbiter of truth on the internet and has insisted his platform is policed by an opaque entity known as the International Fact Checking Network.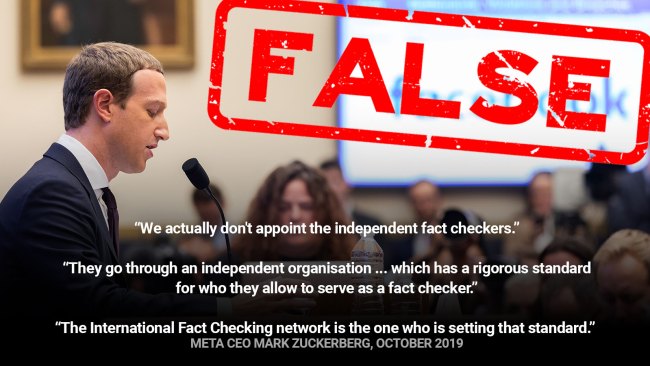 Meta CEO Mark Zuckerberg testifies to the US congress about fact checking being independent and overseen by the IFCN.
However, while RMIT was certified by the IFCN at the time the contract was signed, Sky News can reveal the certification expired in December, leaving the operation free to censor Australian journalism with no oversight at all.
It is just one of 55 fact checking operations around the world which remain signatories of the IFCN despite having expired credentials.
The commercial contract between the Melbourne university and Meta has strict clauses which allow Meta to tear up the agreement if RMIT ever loses certification, but the tech giant has not done so despite being aware that the prominent fact checker is deplatforming journalism while expired.
The university used the powers Facebook has given it to throttle Sky News Australia's Facebook page with false fact checks multiple times this year, breaching the Meta-endorsed IFCN Code of Principles and preventing millions of Australians from reading or watching Sky News Australia's journalism.
Fact checkers employed by RMIT have led to numerous code breaches, including one fact checker using her social media account to label Opposition Leader Peter Dutton a fear-mongering racist for his views on the Voice.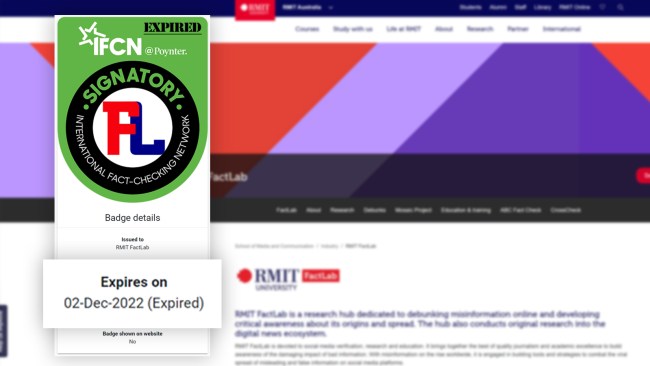 RMIT FactLab has an expired badge that has not been renewed in more than 8 months.
That same fact checker has published multiple Voice fact checks which were paid for by Meta and resulted in Australian journalism being censored on the platform.
An audit of RMIT Voice fact checks showed the 17 Voice checks between May 3 and June 23 this year were all targeting anti-Voice opinions or views.
Revelations contained in this investigation raise questions about Meta's global fact checking operation which appears to have been hijacked by activists.
The Meta communications team attempted to downplay the issue and continued to outsource responsibility for fact checking certification processes to the IFCN.
The IFCN claims it "does not dictate to fact-checkers how they abide by the principles" and compared Sky News Australia's questions to a sports fan complaining about a referee's decision in a "football match".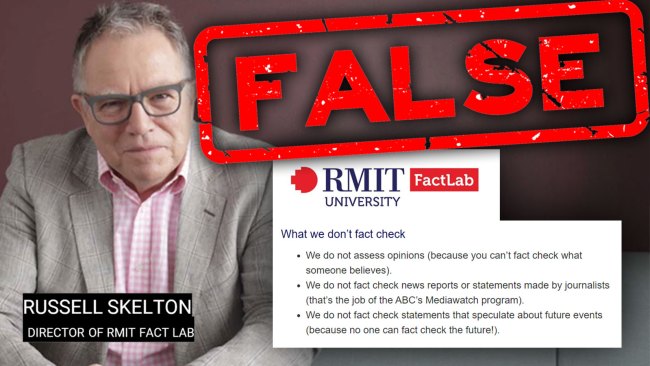 RMIT sets out what it can and can't fact check. Opinions are deemed off limits.
In another case of an academic-driven censorship campaign influencing the Voice, a University of Adelaide academic has partnered with an activist group to publish inaccurate statistics on news coverage to falsely claim the Voice is being killed off by journalism.
This investigation will reveal how media research by University of Adelaide academic Victoria Fielding is being funded by the Australians for a Murdoch for a Royal Commission group.
The university and activist group are working together to create an argument that journalism, and so-called misinformation, is to blame if the Voice fails.
As the name of the university's funding partner suggests, the research is designed to bolster arguments for hauling journalists before a royal commission for the crime of reporting the news.
Both of these fact checking operations are run by academics who work at taxpayer-funded institutions which each claim hundreds of millions of dollars in taxpayer payments and grants each year.
Both operations seek to influence how Australians will vote at the upcoming constitutional referendum.
Inside the RMIT Fact Checking Operation – Who are the internet's arbiters of truth?
Former ABC journalist Russell Skelton now heads the RMIT FactLab which has a commercial contract with Meta to police content on its chief platform, Facebook.
Skelton is unashamedly partisan on social media, and has published dozens of tweets criticising conservative viewpoints and the journalists he has been tasked with fact checking.
Skelton is an ABC veteran, married to high-profile presenter Virginia Trioli, and was once in charge of the national broadcaster's own fact checking operation.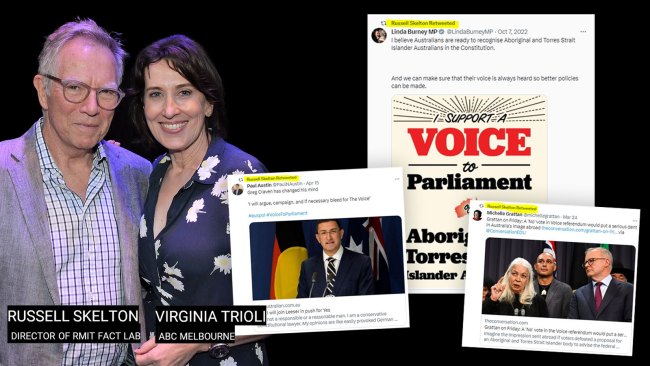 RMIT FactLab director Russell Skelton campaigns for the Voice even though he is bound by strict impartiality rules.
His brash style of partisan politics is nothing new.
While at the ABC he often earnt the ire of Senators who complained of bias and in 2013 the Sydney Morning Herald wrote this of Skelton's fact checking credentials.
"By the time Mark Scott (former ABC managing director) left the Senate committee hearing into the ABC on Wednesday he smelled. An unpleasant odour had attached itself to the testimony and credibility of the ABC's managing director. The source of odour could be summed up in two words: Russell Skelton," the SMH article said.
"That Skelton has had several ethical collisions, is a fierce political partisan, and has left an unedifying trail of puerile smears, would not matter to the public at large if Skelton had not just been appointed the chief fact-checker of the ABC".
Despite Skelton's controversial, and very public history, the RMIT put him in charge of its powerful fact checking operation.
More recently Skelton has campaigned directly for the Voice and re-published Labor's political slogans which were tweeted by Indigenous Affairs Minister Linda Burney.
These actions alone put RMIT FactLab in breach of fact checking rules, particularly section 2.5 of the IFCN's Code of Principles.
"Save for the issues of accuracy and transparency, the applicant's staff do not get involved in advocacy or publicise their views on policy issues the organization might fact check in such a way as might lead a reasonable member of the public to see the organization's work as biased," the policy states.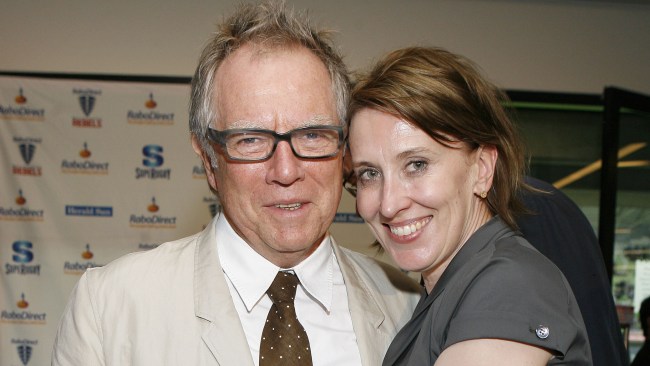 Melbourne Rebels Chairman's Dinner. Russell Skelton and Virginia Trioli
And under Skelton's leadership, the organisation in general may have fallen foul of section 2.4 of the same code.
"The applicant is not as an organization affiliated with nor declares or shows support for any party, any politician or political candidate, nor does it advocate for or against any policy positions on any issues save for transparency and accuracy in public debate," the policy states.
Skelton's organisation claims to be certified and includes this assertion in its fact checks.
"No, RMIT FactLab is not set to rig the Voice referendum," RMIT fact checker Renee Davidson wrote.
"RMIT FactLab is an independent fact-checking organisation. It is accredited by the International Fact Checking Network and does not receive any funding or editorial direction from political parties, advocacy groups or lobby groups."
RMIT FactLab had an expired certification at the time that fact check was published.
The author, Renee Davidson is a pro Voice fact checker who has previously argued for constitutional change on social media, and has throttled Sky News Australia's page with fact checks on the Voice several times.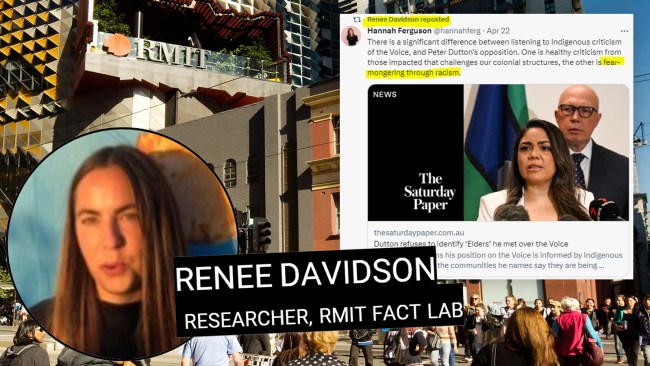 RMIT fact checker Renee Davidson has shared content which labels the Coalition's Peter Dutton a fear-mongering racist.
In April, Ms Davidson labelled  Peter Dutton a fear-mongering racist.
"There is a significant difference between listening to Indigenous criticism of the Voice, and Peter Dutton's opposition. One is healthy criticism from those impacted that challenges our colonial structures, the other is fear-mongering through racism," Ms Davidson retweeted to social media.
RMIT's executive director of policy Tom Bentley is quoted in the fact check as claiming RMIT FactLab is "independent".
And the fact check even states RMIT actively works alongside the Australian Electoral Commission to "combat false information".
"In an informal non-commercial arrangement, the Australian Electoral Commission (AEC) is working with fact-checking units such as RMIT FactLab, RMIT ABC Fact Check and the AAP FactCheck to combat false information that relates to the electoral process of the referendum on the Indigenous Voice to Parliament," Ms Davidson wrote.
AEC media and digital engagement director Evan Ekin-Smyth refuted claims in the RMIT fact check that the AEC had an arrangement of any kind.
"It is not a partnership, we treat them like any media inquiry which comes to us," he told Sky News Australia.
Mr Ekin-Smyth was adamant the AEC had never acted on information RMIT had sent its teams and stressed his operation was entirely independent of RMIT's FactLab.
He also said that although the AEC met with staff from RMIT, it was only to let RMIT fact checkers know where to send media requests.
"We have been explicit in these meetings and our communication that there are no 'partnerships' – formal or otherwise," Mr Ekin Smyth said.
"The contacts that have been provided are simply our media contacts."
RMIT Factlab said it "regularly exchanges relevant information with the AEC".
How RMIT uses Facebook's internal systems to de-rank journalism it disagrees with
One fact check Skelton's team published related to the Uluru Statement from the Heart document and whether it is 26-pages long.
Sky News Australia published the document which was released under a public Freedom of Information Request. It was numbered sequentially in contextual continuity with the words on page 1, therefore it is clearly accurate to label it a singular document released by the National Indigenous Australians Agency under FOI laws.
Sky News Australia was censored on Facebook by RMIT Fact Checkers who stopped Australian users from watching the political debate.
Skelton's fact check quotes an author of the document, Professor Megan Davis, as evidence the Uluru statement document is only one page long, but fails to include at least four quotes by the same person before the issue became political, and before she walked back her earlier statements.
Ms Davis also said this:
In her 2018 Parkes Oration: "The Uluru Statement from the Heart isn't just the first one-page statement; it's actually a very lengthy document of about 18 to 20 pages, and a very powerful part of this document reflects what happened in the dialogues."
In a 2022 article in The Australian: "The Uluru Statement… is occasionally mistaken as merely a one-page document… in totality (it) is closer to 18 pages and includes… a lengthy narrative called 'Our Story'".
In a webinar for the Australian Institute in August 2022: "It's actually like 18 pages, the Uluru Statement. People only read the first"
At the recent Sydney Peace Prize award ceremony: "It's very important for Australians to read the statement, and the statement is also much bigger it's actually 18 Pages"
Prime Minister Anthony Albanese maintains that calling the document an extended version of the Uluru statement is a "conspiracy theory" but the Coalition disagrees. Sky News has reported both sides of this debate, with Labor and Chris Kenny in agreement.
Read the full document here.
It was inherently a political debate but RMIT was paid to censor it, and prevent Australians from viewing the document by throttling Sky News Australia's Facebook page.
Meta allowed RMIT to put a "false information" label on the video which forces users to read a disclaimer before opting to watch the video and Meta also restricted reach on the entire Sky News Australia page for weeks as a punitive response.
"Independent fact-checkers say that this information has no basis in fact," Meta says in the disclaimer.
It then links to the RMIT FactLab fact check which declares the video is "false".
Even the ABC's Media Watch host Paul Barry took issue with the false label Meta applied to the video, suggesting the facts were disputed.
"Given that there may be some point in what Credlin is saying, we think a disputed label would be more appropriate," Mr Barry said.
This is just one example of many.
Another fact check related to a live television interview on Sky News with former Liberal MP Nicolle Flint, who gave her opinion on what might happen if Australia implemented a controversial United Nationals Declaration On the Rights of Indigenous People.
Portrait of Australian politician Nicole Flint in her office in Parliament House, Canberra. Picture: NCA NewsWire/ Gary Ramage
Flint predicted if it was legally adopted by Australia and built into legislative framework, it could lead to Indigenous Australians having their own independent political system.
The fact checkers at RMIT disagreed, and rated her opinion as false. This is despite the fact the hypothetical situation has not happened and therefore no so-called expert can rule out the scenario presented by Flint about what future legislation or declaration adoption wording might say.
The fact check clearly breaches several of the promises on RMIT's own website:
We do not assess opinions (because you can't fact check what someone believes).
We do not fact check news reports or statements made by journalists (that's the job of the ABC's Mediawatch program).
We do not fact check statements that speculate about future events (because no one can fact check the future!)
Flint's comments were both an opinion and speculation about a potential future event.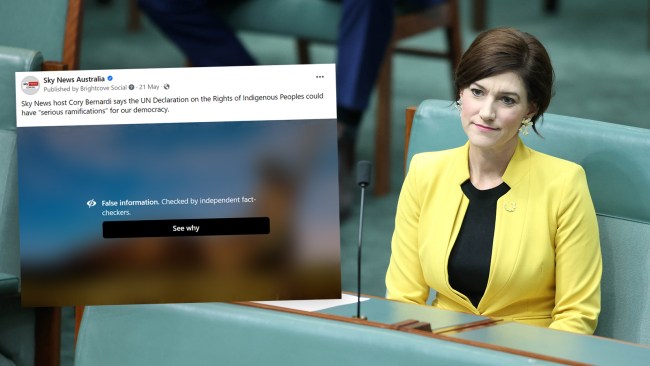 Political debate around what might happen if Australia implemented a UN Declaration of Rights of Indigenous Peoples was censored on Facebook.
The fact checker in this situation was Renee Davidson.
Even though Ms Davidson had formed the opinion that Mr Dutton's views on the Voice made him a fear-mongering racist, she was not stopped from fact checking a member of Mr Dutton's party, which is formally opposing the upcoming referendum.
Instead, she used the powers granted to RMIT FactLab to censor an opinion about a political debate she disagreed with.
This means that almost no Australian Facebook users were able to see the debate and form their own opinion.
Is it fair for media organisations to have their reach tampered with on social media platforms by for the crime of quoting politicians?
Ms Davidson is responsible for several fact checks on the Voice, almost always targeting the No campaign or commentary by those against the Voice.
In some cases she quotes anonymous Facebook users as evidence there is a groundswell of misinformation around a No campaign talking point.
In this case, she cherry-picked conversations had by everyday Australians and used Facebook's system to censor an opinion she disagreed with.
When Western Australia repealed overreaching Aboriginal cultural heritage laws due to public backlash, Ms Davidson declared it was misinformation to draw any connection between those laws and what might happen through the Voice.
"Although the repealed laws have no correlation to the Voice, supporters of the No campaign have linked the two issues to push the No vote ahead of the upcoming referendum," Ms Davidson asserted.
Her evidence?
"'WA is scrapping their dopey 'voice like laws' as they were unworkable,' one Facebook user wrote in a post."
One Facebook user was ruled misinformation by Ms Davidson.
Freedom of speech was eroded in this instance by a foreign funded body which targeted an everyday Australians' political opinion.
Slight verbal missteps from Yes campaigners do not face this level of scrutiny by RMIT, which is a breach of IFCN Code of Principles which states fact checks must evenly target both sides of political debates.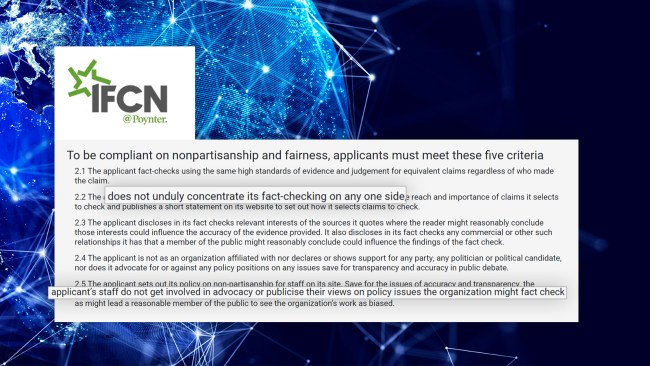 The IFCN Code of Principles set our the rules fact checkers must abide by.
For example, RMIT has never fact checked Prime Minister Anthony Albanese or Indigenous Affairs Minister Linda Burney for the erroneous claim that a legislated Voice could be removed with a "stroke of a pen".
It is a regular slogan that is false and ignores the reality of our complex political system which requires both a lower and upper house majority to alter legislation.
These semantics can easily be applied to nearly every casual conversation a person has, but they are not evenly being applied across the political spectrum.
Sky News analysed every fact check published by RMIT between May 3 and June 23 this year and found 17 of the 20 related to the Voice. The remaining three were unrelated to the Voice.
The 17 fact checks were critical of No campaigners or commentary and nothing in that period had been published checking the Yes campaign.
What did the fact checkers at RMIT say when challenged on code breaches?
There were two issues Sky News put to RMIT: breaching the IFCN Code of Principles and RMIT FactLab falsely representing itself as a fully certified fact checker.
As this issue has become one of immense public interest, we have published lengthy correspondence with RMIT in the interest of transparency. Read it HERE.
On the first issue, RMIT FactLab claimed it had no obligations to ensure its staff appear to be impartial when conducting fact checks and defended Mr Skelton's social media conduct as his right under its "intellectual freedom policy".
"RMIT University also has an intellectual freedom policy, which reflects the University's strong position and protection of freedoms related to academic freedom and freedom of speech," an RMIT spokeswoman said.
"We do not consider that by re-tweeting a parody account on Twitter via his personal Twitter account, Russell has engaged in any breach of law, the RMIT staff code of conduct or its social media guidelines, or the IFCN principles."
On the point of operating with an expired certification, RMIT's lawyers defended its decision to mislead Australians into thinking the fact checking operation was fully certified.
RMIT blamed poor resourcing at the International Fact Checking Network for a delay in reviewing RMIT's application to be certified. RMIT FactLab's certification has been expired since December, 2022 but still has access to Facebook systems.
"As you may be aware, the IFCN is a comparatively small operation. I am instructed that their team comprises about five people (ie very small) and that at the time of renewals there were IT issues which affected review times," RMIT wrote.
This is the body Facebook has promised governments around the world, is overseeing the global fact checking apparatus, but according to RMIT, Facebook is happy to grant organisations the power to police content without being certified, and while clearly in breach of impartiality rules.
And then the excuses took a stranger turn.
"Further, earlier this year, the Interim Director's wife was traumatically injured in a random attack," RMIT wrote.
"As such, I would speculate that the review of renewal applications would not necessarily be their utmost priority at this time."
If RMIT is correct and a traumatic injury on one staff member's wife means the body cannot fulfil its functions, fact checking organisations globally are now deplatforming content on Facebook without any oversight at all.
International Fact Checking Network director Angie Holan insisted that a fact checker with an expired certification cannot be called "uncertified", as that is a label does not exist inside the halls of her organisation.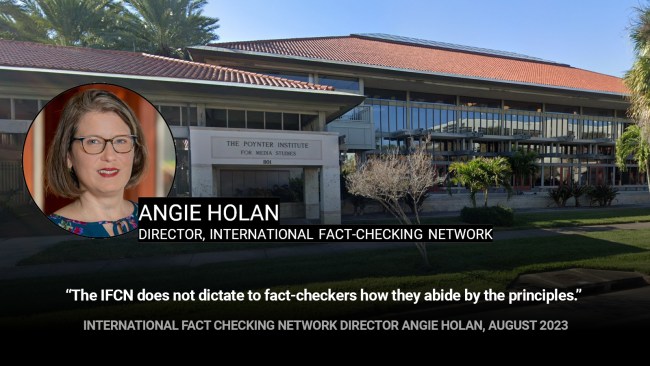 Director of the International Fact Checking Network Angie Holan says she will not dictate how fact checkers abide by her Code of Principles.
"For the record, RMIT FactLab is a signatory of the IFCN Code of Principles in the process of undergoing its annual renewal," she wrote.
"It is in no way 'uncertified' and the IFCN does not use that term as a signatory status.
Uncertified may not be a phrase the IFCN uses internally but this response raises questions about how many fact checkers globally are operating with expired credentials.
Ms Holan declined to answer several specific questions and instead took aim at Australians concerned about political censorship, comparing complaints to frustration about a football game.
"Fact-checkers are highly scrutinised, and tend to be criticized in the same way as referees calling a football match.
"It's common for those who dislike fact-checkers' findings to claim that the fact-checkers themselves have shown personal bias or that they've selected the wrong things to fact-check.
"Such claims should be taken up with the fact-checking organizations themselves; the IFCN does not adjudicate claims about specific fact-checks but rather looks for the soundness of overall methodology and practices."
Even though RMIT FactLab's certification has been expired for more than 8 months, Ms Holan said there were no issues with her organisation's processes.
"There is a process to be followed for renewals, as outlined on our website, but there is no set timeline," she said, while also claiming renewals were annual.
"Renewals take as long as the process takes to be completed."
This information is at odds with the IFCN's public messaging on its website which promises the renewal process is completed within three months, and the onus is on the fact checker to start their renewal process early.
"Verified signatories are reminded a month prior to their expiration date with a notice to start their renewal process and the IFCN offers them a three months period to complete their renewal process," the IFCN website claims.
But even if RMIT FactLab was certified, Ms Holan says they will not be forced to follow the Code of Principles.
"The IFCN does not dictate to fact-checkers how they abide by the principles," she said.
"Rather, we compare their practices to our principles and make an assessment of whether they match up. RMIT's fact-checking has shown that it meets our standards."
In other words, the heavily advertised Code of Principles the IFCN promotes on the front page of its website to appear credible, is not being enforced.
This message appears not to have been sent to the Meta PR team which insists the IFCN oversees fact checking certification, which includes adherence with the Code of Principles.
Meta took no responsibility for the targeted campaign it was financing around the Voice referendum and insisted the fact checking operation was "independent".
"Meta doesn't believe companies like ours should decide what's true or false, so we partner with independent fact-checkers to identify and review potential misinformation," a spokeswoman said.
"If someone disagrees with a rating applied to their content, they can request a review with the fact-checking organisation."
Sky News disagreed with RMIT FactLab's conduct but did not hear back from the IFCN after making a formal complaint on July 5, until it was explained this issue would be reported on publicly.
"The IFCN received the complaint from Sky News as of July 5, and it is under review," Ms Holan wrote on August 21, more than a month after her organisation was alerted to the issue.
In that period of time RMIT FactLab has continued to publish content.
Meta's PR team also attempted to use a background briefing to push a false narrative that RMIT FactLab might actually have been re-certified. The issue could simply have been the website needed updating, it was asserted.
"I did note that the IFCN have stated on their website that some of the signatories are going through or may have signed their accreditation, but the website doesn't reflect that," Meta said.
"You will have to check with the International Fact-Checking Network about a specific fact-checking organization's current status, but our understanding is their website is not up-to-date."
Despite what was suggested on background, RMIT FactLab is still not certified.
Briefing journalists on background is often a tactic PR spinners use to get a false narrative published without having that erroneous information formally attributed to their company.
It is designed to spread doubt and kill off problematic reporting.
Sky News Australia has chosen not to identify the Meta employee who provided the background briefing.
Foreign funds censoring journalism and big tech influencing our democracy
Meta operates a tax efficient subsidiary in Ireland which handles payments of up to US$40,000 a month to RMIT for its fact checks.
This figure amounts to a figure of $741,000 Australian dollars the RMIT can claim from Facebook each year, depending on quantity of fact checks and the strength of the dollar.
Meta has said its fact checking operations are entirely "third party" and independent but this contract proves that the tech giant has a direct financial relationship with at least one fact checking body.
Meta made the commitment to only work with fact checking organisations that are accredited by the IFCN, a commitment Meta has given in public testimony to the US Congress in 2019 and, more recently, in Facebook's 2021 submission to the Australian Senate Inquiry on Media Diversity in Australia.
The contract between Meta's Irish subsidiary and RMIT details how fact checking operations are profiting from the volume of fact checks they publish.
The contract states that RMIT is bound by the strict impartiality rules detailed in the IFCN Code of Principles.
Meta has the power to tear up the contract and shut RMIT out of its systems should it ever lose certification from the International Fact Checking Network.
"Company (RMIT) shall be a signatory to a fact checkers' Code of Principles as promulgated by an independent third party ("Code of Principles")," the contract states.
"If at any time Company ceases to be such a signatory, Meta may, in its sole discretion, immediately terminate this Agreement or suspend Company's access to the Ratings Tool until Meta is reasonably satisfied that Company is again such a signatory.
"In addition, Company acknowledges that its status as a fact checker under this Agreement is contingent upon Company's adherence to Meta's News Feed Guidelines.
"In the event Meta reasonably determines that any conduct of Company constitutes a violation of the News Feed Guidelines, Meta will provide notice to Company of such violation and the parties will promptly discuss such violation and a mutually agreeable plan to prevent future violations."
Many fact checks from RMIT concern the Voice and nearly all of these fact checks are of anti-Voice views. Fact checking rules say one side of politics should not be targeted more than another, but this rule is also not being followed.
The more fact checks RMIT publishes, including on the Voice, the more money it makes. This has the chilling effect of creating a financial incentive for activists to profit while controlling the national discourse.
RMIT declined to reveal how much money it had pocketed from its Meta deal, claiming it was "commercial in confidence".
Inside the University of Adelaide's campaign to silence media reporting
It is not just the Royal Melbourne Institute of Technology which is taking money to police journalism.
An activist researcher, who is campaigning for the Voice, is fronting a research hub at the University of Adelaide which is fully financed by the Australians for a Murdoch Royal Commission group, which is headed up by former Liberal prime minister Malcolm Turnbull and founded by former Labor prime minister Kevin Rudd.
Victoria Fielding works at the University of Adelaide as a lecturer but when she is not shaping the minds of today's youth she can be found campaigning stridently for any number of progressive issues, including the Voice.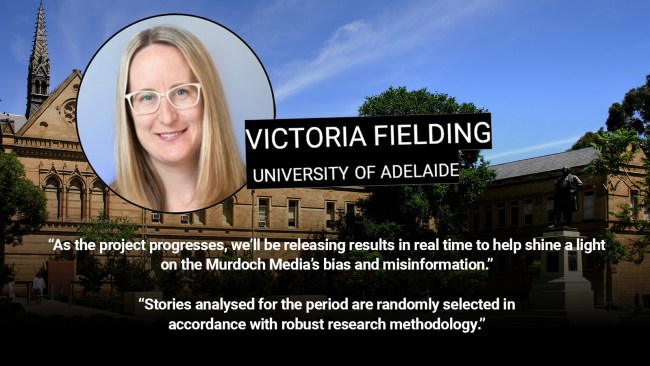 University of Adelaide researcher Dr Victoria Fielding promises to shine a light on media bias.
Her opinions are strong and inflammatory, including labelling the Opposition Leader Peter Dutton's Voice policy as "morally corrupt" and claiming "there is no way to reasonably oppose the Voice without lying".
Ms Fielding also mocked No campaigner Warren Mundine for talking about how abuse from trolls on social media has been so vicious that he attempted suicide.
"Warren Mundine has a huge voice – a national media platform via Murdoch outlets for many years. He is a millionaire wealthier than most Australians will ever be. He's used his voice to get there and is now telling the Aboriginal community they can't have a voice. It's abhorrent," she wrote.
And.
"Murdoch's attempt to make Mundine the Voice referendum victim is not only false, but also shows how weak their 'no' narrative is. They have no heroes. They only have liars, grifters and faceless trolls, plus now faux-victims. Pathetic, all of it."
Despite her strong views on the Voice, the No campaign and News Corp in general, Ms Fielding is the lead researcher on a project known as Murdoch Referendum Accountability Project.
"My name is Dr Victoria Fielding," she wrote.
"I am a Lecturer in Strategic Communication at The University of Adelaide. My research investigates news media framing of public contestation and media's influence on democracy – and I am passionate about holding the media to account."
Ms Fielding  – who has a PhD in communications – is in charge of analysing and fact checking media coverage of the Voice.
The university has strict policies which govern the conduct of its academics and their research.
Chancellor Catherine Branson and Vice Chancellor Peter Høj declined to comment on the issue.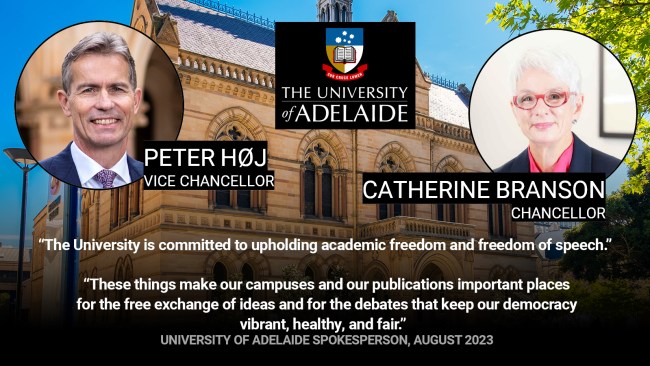 The University of Adelaide believes in free speech.
Sky News Australia offered both Chancellor Catherine Branson and Vice Chancellor Peter Høj the opportunity to take part in on camera interviews. Both university leaders declined.
Instead, the university has given Ms Fielding full reign to publish misleading research.
"We've just finished our first week – and I am already alarmed at what we're seeing," she wrote in an email from the Australians for a Murdoch Royal Commission.
"My team is analysing coverage from The Australian, The Daily Telegraph, The Herald Sun and Sky News. Our methodology identifies which voices and arguments are included, and how those voices are characterised down to specific words. In our first week we analysed 126 pieces of content and found: Of the Murdoch Press referendum coverage that contained an argument, 76% reflected messages from the No campaign.
"72% of their characterisations directly villainise the people advocating for Yes, with a significant portion of these attacks being directed at Anthony Albanese."
Sky News Australia asked the university to supply the 126 stories Ms Fielding analysed from "week 1" and make clear what had been ruled pro Voice and what had been ruled anti Voice, but only the headlines were supplied.
This meant the university was forthcoming about which pieces of content had been analysed, but refused to reveal how each piece of content was judged.
However, Sky News was able to use the headlines to check Ms Fielding's work and it soon became apparent there was a critical flaw in her research.
Her team had not analysed all content published on the Voice in the disclosed timeframe, and instead the researchers appeared to be looking primarily at stories quoting representatives of the No campaign.
Ms Fielding's team ignored an interview Sky News did with Noel Pearson from the Yes campaign, published with the headline "It's got to be love and friendship': Noel Pearson urges supporters of the Voice to Parliament to be civil".
There were several more examples of content Ms Fielding ignored from her research concerning the first week of data.
When Chancellor Catherine Branson and Vice Chancellor Peter Høj were asked why the research omitted coverage of Yes campaigners, they released this statement from Ms Fielding.
"Stories analysed for the period are randomly selected in accordance with robust research methodology," Ms Fielding said.
"Every week the research team will be coding approximately the same number of randomly selected media items to ensure evenly weighted samples across the project."
It was not disclosed in the email Ms Fielding had "randomly" selected which news articles to analyse. Instead, it was claimed as a fact that 76 per cent of News Corp articles on the referendum "that contained an argument" were anti-Voice.
That figure is misleading as it overlooks the totality of News Corp's referendum coverage but the university stopped responding to emails once this was pointed out.
It was clear Ms Fielding was always going to reach this conclusion as she had already stated:
"As the project progresses, we'll be releasing results in real time to help shine a light on the Murdoch Media's bias and misinformation," she said.
How could Ms Fielding determine the coverage was biased before her research project has concluded?
The researcher had already formed an opinion.
So how is Ms Fielding judging what content is pro Voice and what content is anti Voice?
"The methodology being used to analyse media content is manual, inductive content analysis which enables the identification and measurement of codes which identify voices in the media content, including those internal and external to News Corp," she said.
"It also measures which arguments are used by these voices either for or against the Voice. Additionally, it identifies how different voices' arguments are characterised as heroes (doing the right thing), villains (doing the wrong thing) and victims (being harmed by villains)."
By her own admission the research involves Dr Fielding manually adjudicating what media content is pro Voice and what content is anti Voice.
The methodology provided appears to be unscientific and highly emotive, using language such as "villains" and "heroes" to distinguish which binary content falls within.
News reporting is more complex than binaries and not every story neatly fits into a binary of either for or against.
The Australians for a Murdoch Royal Commission group will use this flawed research to front a narrative that the Voice, which is struggling in the polls, failed because of media coverage.
Ms Fielding is not shy about this fact, writing "And after the vote we will compile the findings into a rigorous, hard-hitting report".
The University of Adelaide declined to answer several questions, including those directed to the academic integrity policy or the code of conduct.
However, the university provided a statement, ironically, talking about freedom of speech.
"The University is committed to upholding academic freedom and freedom of speech," a university spokeswoman said.
"These things make our campuses and our publications important places for the free exchange of ideas and for the debates that keep our democracy vibrant, healthy, and fair."
Freedom of speech for the university but not for politicians arguing against the Voice.
Jack Houghton analyses the Fact Check Files and summarises findings
Australians have a right to debate issues around the Voice without feeling coerced – especially by large and well-funded bodies seeking to control the national debate.
We have already seen the damaging effect overzealous censorship on social media can have.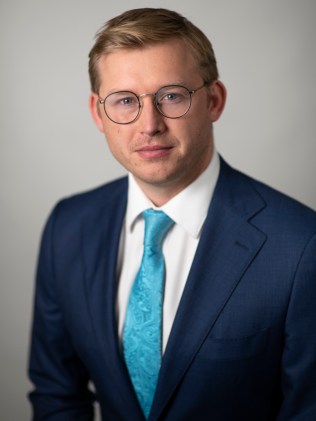 Sky News Australia's Jack Houghton analyses findings from The Fact Check Files.
Important conversations such as the origins of COVID-19 were labelled false by fact checkers working for Facebook, and in another case Mark Zuckerberg was forced to apologise for erroneously labelling the New York Post's Hunter Biden laptop story as misinformation, and limiting reach on the platform.
News organisations should not be policed by activists who have wormed their way into powerful institutions to act as censorious arbiters of truth.
Quoting a politician is not an endorsement of that politician's perspective.
And most concerning is the flagrant disregard the world's fact-checking ecosystem has for following its own rules.
It is all very well to proudly celebrate your charter, code of conduct and strict ethical mantras to appear credible, but if those documents are simply ignored, it all becomes meaningless.
These are rules democratic governments around the world have been told exist to keep the industry honest.
Instead of acting impartially and with transparency, fact checking operations have become unashamedly partisan.
Meta has much explaining to do.
Revelations in this investigation show third party fact checkers are not certified and instead have direct financial relationships with Facebook.
Why should Australians not form the view our Senate has been misled? How is this not an act of foreign funds influencing our democracy in breach of Australian Electoral Commission rules?
We urgently need an inquiry to probe the financial relationship between fact checkers, social media platforms and universities.
Universities have no legal obligation to be transparent about these commercial contracts with foreign entities and that needs to change – or the funding should dry up.
They also have no obligation to publish academic research free of influence from radical activists. In fact, they are happy taking money from these groups to finance heavily partisan campaigns.
Labor's proposed misinformation laws to bolster the ACMA will embolden this fact checking industry and the freedom to debate and disagree will fade on social media platforms.
The greater the power a tech giant wields the greater the responsibility it has to ensure political debates are not interfered with.
You may disagree with many opinions from proponents from the No campaign but it is their right to have that debate.
This referendum is for Australians to decide, not a handful of trumped-up academic elites doing everything in their power to influence the vote